A book on Louis d'Ailleboust
de Coulonge et d'Argentenay,
Third Gouvernor of the New France
and his contemporary
Here's an excellent book (179 pages) by Sylvie Ravet-Biton
that you can order for 15,50 euros (shipping and handling included)
from the author :

Madame Sylvie Ravet-Biton
56, Grande Rue
89160 Ancy Le Franc
France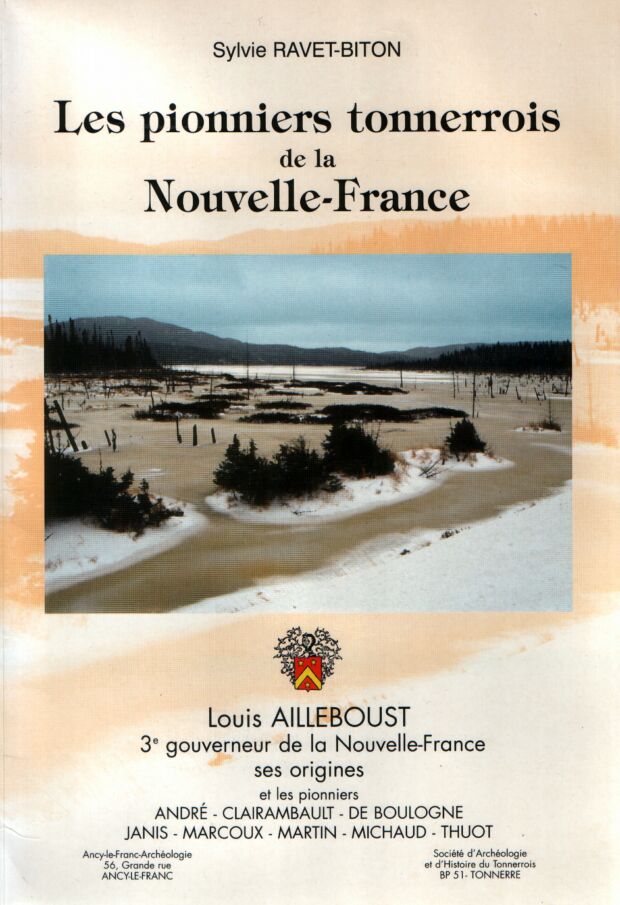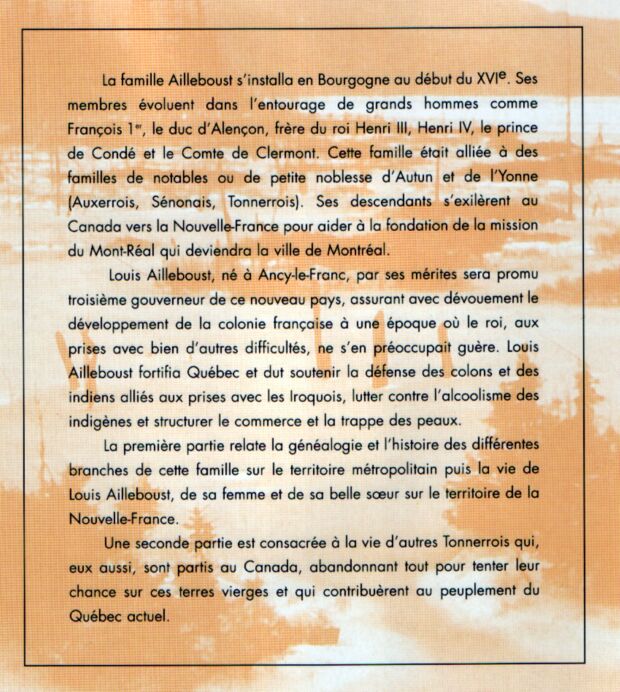 The Ailleboust family settled in Bourgone at the beginning
of the XVIth century. Its members were acquainted
with famous people and royalties :
François duke of Alençon, brother of the King Henry III, Henry IV,
the prince of Condé and the Count of Clermont. This family was allied
with notable families from Autun and Yonne (from Auxerre, Senonais, tonnerois).
Their descendants emigrated to Canada in New France to help with the
foundation of Mont-Real mission which later became the town of Montreal.
Louis Ailleboust, born in Ancy-le-Franc, will be promoted third governor
of this new country because of his good services rendered to his country.
He will assure the development of the French colony with devotion in an era
when the King was neglecting it because of many other difficulties.
Louis Ailleboust fortified Quebec, assumed the defense of the settlers and the allied
Indians against the Iroquois, dealed with alcoolism amongst
the Natives and structured the fur trade market.
The first part of the book relates the genealogy and history of different branches
of this family in the metropole and the life of Louis Ailleboust,
his wife and sister-in-law in New France.
The second part tells the life of other Tonnerois who emigrated to Canada,
leaving everything behind to take a chance on these new virgins lands,
and contributed to populate the Quebec of today.
Book recommanded by the Count Alain Chebroux.

Translated by Renée Gauthier

© Alain Chebroux, Count of Argenteuil : www.count-argenteuil.com
© Count Alain Chebroux of Argenteuil. The Seigniory and the County : www.argenteuil.name